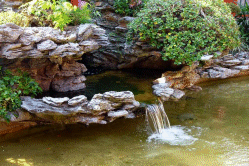 We have a large selection pond supplies and equipment including pre formed ponds, pond liners, moulded ponds, pond pumps and filters.
Our shop also has a variety of pond plants and pond fish food.
If we don't have what the you want in stock we will endeavour to source the item for you.
Pentangle carries both PVC and Butyl pond liners, the latte
r is held on the roll in widths of 3,4,5,6 and 7 Metres. Larger sizes are available at very attractive prices and can be delivered direct to site. Pre-formed ponds are stocked, unusual sizes/types may be ordered in as required or we can supply them custom built to fit the excavation!
Helpful advice is always available on pond pumps. Pentangle has a range of reliable (conclusions drawn from experience) pumps to run Pond Filtration, Pond Waterfalls, Pond Fountains etc. Low maintenance, low wattage, filtered and high lift capability are available options.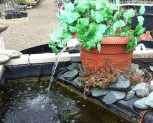 As well as the standard makes and types of Pond Filters, Pentangle designs and produces unique filtration solutions to suit specific customer requirements. The range of Pentangle Plant Filters has been developed for small and medium ponds where space is at a premium. This type of filter can be made into a feature on the edge of (or in) the pond and can be planted with aquatic plants to give a pleasing alternative to an ugly rectangular box.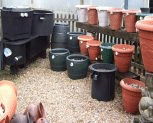 Pentangle Waterfall Filters have been developed for minimum maintenance; a built-in trap collects the sediment allowing particles to clear the filter chamber leaving the medium unclogged. We have never needed to clean out our Waterfall Filters! This type of filter is usually dug-in at the top of the waterfall where once rock-edged it gives the appearance of a shallow pool. For an even more natural look simply add a few of our aquatic plants.
We have a large selection (in season) of Pond Plants, Marginal Plants and lilies. Most come ready planted in 1 Litre baskets with some larger specimens in 5L`s. Oxygenators and floating plants are sold loose. Various sizes and shapes of planting baskets are stocked together with liners and small, medium or large bags of aquatic soil.
Pentangle stocks several ranges of Pond Fish Food, Tetra, Nishikoi, Hikari, Koi Ultra, Blagdon, bulk and professional foods. If we do not have the type you use, please ask and we will be happy to get it in for you.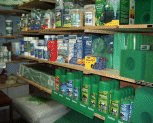 Our pond section has a full selection of Pond Healthcare Products, blanket weed remedies (both chemical and electronic), filter media, water quality products, heron defences, hoses and fittings, nets, lighting, fountain heads and much, much more. We offer a spare parts service for most major makes of pumps, filters, etc.- if we do not have it in stock we can usually get it within days!
If you require pond installation or maintenance we can help with useful tips for the DIY builder or we can recommend one of our reliable specialist contractors.