Fishing Tackle, Fishing Bait and Licences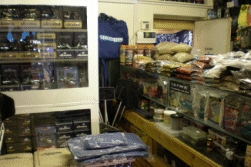 Our New shop has a dedicated Fishing tackle and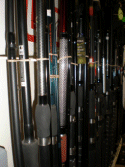 bait section. We can supply all the Fishing equipment and bait you will need to fish the local ponds, lakes, rivers and canals . If you need sea or fly fishing equipment, we are normally able to get it in within a couple of days.
We have large supplies of Fishing Tackle and Fishing Bait.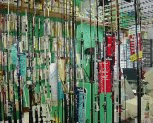 The Fishing Tackle that we stock tends to be at the lower end of the price range, especially the rods and reels. We have Match Rods for as little as £20.00 and Carp Rods from under £30.00. Most of our Fishing Reels are in the £5.00 to £40.00 category. There is a variety of the usual equipment available including:- hooks, line, PVA bags, swim feeders, etc. and general coarse gear, pike and carp equipment and a limited amount of Sea Tackle.
We stock a good selection of Fishing Baits for the coarse angler. There are maggots, trout pellets (available loose in various sizes), very many ground baits (some loose), hemp (canned, frozen, crushed, uncooked or loose), soft hook baits, seed baits, boillies, pop-ups, frozen  pike / sea baits and additives.
Basingstoke Canal Fishing Licences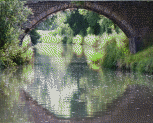 Pentangle supplies Basingstoke Canal Fishing licences. The Basingstoke canal ranges from Greywell through to Chertsey. Every year the canal is closed for fishing between 15th March and 15th June inclusive